A Surgery LIFE Enhancement
Exclusive
:
Suspensory Ligamentolysis · Laser Penis Lengthening Surgery via Stealth Scrotal Entry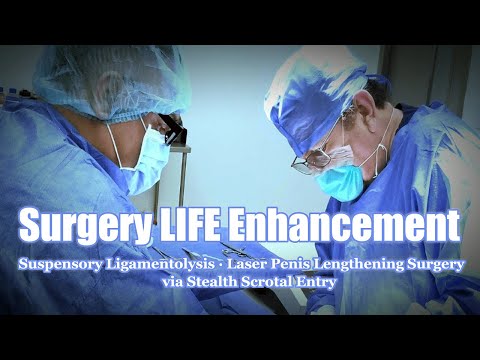 Surgery LIFE Enhancement's Dr. Colorado performs Suspensory Ligamentolysis Phalloplasty · Laser Penis Lengthening Surgery via Stealth Scrotal Entry. SLE video features 3 phalloplasty patients who undergo penile enlargement surgery to increase the length of their penis size.
Patient a. details a reconstruction phalloplasty procedure. The patient has an existing transverse scar located within his Suprapubic region and a autograft (autologous dermal tissue) for added girth he received several years prior. Dr. Colorado performs our updated version of Suspensory Ligamentolysis removing adhesion from the old transverse scar, releasing the patient's inner penis from the Suprapubic.
Patient b. is uncircumcised and opts for penis lengthening surgery a few days after his PMMA penile girth injections. Dr. Colorado and Dan Salas describe how the lig cut incision location is chosen within the skin-folds of the scrotum. Doctor C performs the ligament transection through the stealth scrotal entry, releasing the man's inner penis which increases his flaccid stretch length.
Patient c. had prior dermal filler injected in the U.S.A. and opts for Suspensory Ligamentolysis via stealth scrotal entry by laser. Dr. Colorado performs Surgery LIFE Enhancement's exclusive penile lengthening surgery by laser dissection of the patient's suspensory and fundiform ligaments. The surgical procedure increases the patient's flaccid stretch length, or simulated erect length.
Internationally renowned, Dr. Colorado is a Board Certified Urologist and Professor of Urology Theory at Universidad Autónoma de Baja California—Tijuana, Mexico. Dr. C is Surgery LIFE Enhancement's Chief Medical Doctor and performs all SLE state-of-the-art surgical and non-surgical procedures for men worldwide. To view the 4K version of
Suspensory Ligamentolysis · Laser Penis Lengthening Surgery via Stealth Scrotal Entry please visit: https://bit.ly/3siysKe